MBV Website Verification Services
Website Verification Services to help you

grow.

advance.

succeed.
Vefify your listings on the Major Search Engines! As the owner of an online website business, it's imperative that your website is not only set up properly, but also that you present a level of credibility to the visitors that come to your website in hopes of turning them into customers.
That being said…we have recently launched a new program that will help increase your credibility, exposure, and ultimately conversions! MBV now has the capability of not only submitting your site to the search engines, but to have your website officially "verified" by Google, Yahoo, and Bing!
Your business is our business.
Website Verification Service
After we obtain the necessary verifications from Google, Yahoo, and Bing, we will add the logo below to your site, letting customers know that your site has been verified as legitimate by the 3 biggest search engines in the world!
This is a very important step in creating a comfortable shopping experience for your potential customers.  The logos above are known worldwide and once your website visitors recognize that you are in fact a verified business, you will have a much better chance at getting sales!

In addition, your Search Engine Submissions (SES) will now receive priority submission status over "non-verified" websites.  Therefore the search engine submissions will be much more effective!
You work hard to get people to visit your site, it is imperative to make it as shopper friendly, secure, and inviting as possible?
Contact us today to learn more about our Website Verification service!
MBV Advantages
Increase Traffic
Higher traffic means higher chances of conversion
Look Established
Higher ranking show that you are an established business
Preferred Submission Status
Get priority listings over competitors
Become a Verified Business
Prove you are a verified web business
Google, Yahoo, & Bing
Submitting and verifying with the big search engines
24/7 Support
24/7 customer service and help desk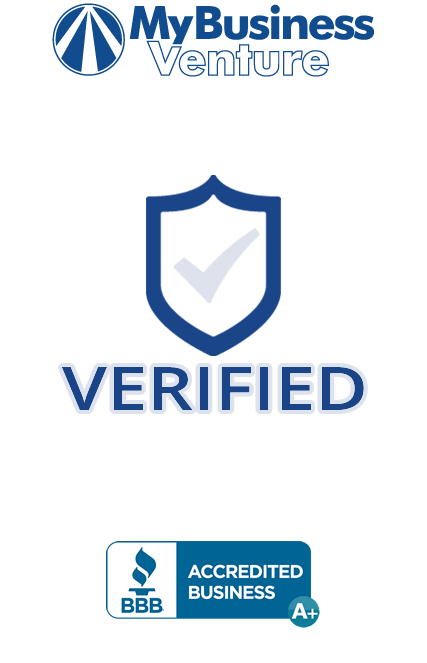 MyBusinessVenture has an excellent formula for success with extremely knowledgeable staff that will get you up and running in record time.
In a time when all you get is voicemail, MyBusinessVenture always has a live person answering their phone during the day and that in itself speaks volumes to their dedication to customer satisfaction.
I just wanted to say thanks for all you do and in getting my business up and instructing me how things work.
When starting a business there is so much to do, it was nice having someone who specialized in helping set up my Company website, and provide toll free support.
MyBusinessVenture provide a seamless service allowing us to handle daily business with no worries.
Our goal is, and always will be, to continue to build synergistic opportunities between us. You're a true partner and we appreciate all the business!