Website Development to help you

grow.

advance.

succeed.
Looking to have a top notch website? Custom created to your liking and not sure who to contact? Have the professionals at MBV give you a hand. We are able to create high tech websites for just a fraction of what you would pay to have it done elsewhere. We specialize in ecommerce enabled websites, HTML5, and mobile enhanced websites. MBV will take your concept and turn it into a reality. Contact us to find out how we can make you another of our satisfied customers.
Your business is our business.
Website Development
MBV can help you easily setup a turn-key e-commerce enabled webstore of, a custom designed HTML5 mobile responsive ready website to help brand your business.
Whether you are a start-up company, existing business, or a Fortune 500 company, we will provide the best website solution for you.
Out Turn-Key solutrion is extrelemy easy to use. Adding a product is as easy as a few mouse clicks. Dynamic Flash Intros and Headers.
Animate your site without having to know Flash Easy editing. If you can type a letter or write email, you can make a website. Choose from dozens of themes and flash headers.
Industry-strength statistics page lets you keep track of visitors to your site.
MBV Advantages
E-Commerce Enabled
Compatible with major credit card processors.
Custom Website Design
HTML5, CSS, Mobile responsive designs just for your bus.
Live Support
24/7 Live support to help you every step of the way.
Low Cost Hosting
Affordable and scalable solutions for your business.
HTML5 Responsive Websites
The most modern sites on the internet today.
24/7 Monitored Uptime
Ensuring your site is live for your customers 24/7 - 365.
SEO Friendly
Rank higer on the major engines with our seo friendly websites.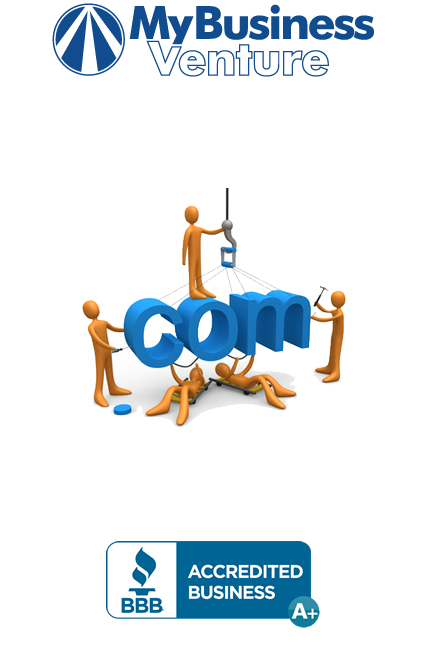 MyBusinessVenture has an excellent formula for success with extremely knowledgeable staff that will get you up and running in record time.
In a time when all you get is voicemail, MyBusinessVenture always has a live person answering their phone during the day and that in itself speaks volumes to their dedication to customer satisfaction.
I just wanted to say thanks for all you do and in getting my business up and instructing me how things work.
When starting a business there is so much to do, it was nice having someone who specialized in helping set up my Company website, and provide toll free support.
MyBusinessVenture provide a seamless service allowing us to handle daily business with no worries.
Our goal is, and always will be, to continue to build synergistic opportunities between us. You're a true partner and we appreciate all the business!