Video Spokesperson Service to help you

grow.

advance.

succeed.
Bring your Website to Life with Video Spokesperson. As the owner of an online business, it's imperative that your website is always inviting and is set up to maximize the sales potential of all visitors to your online store.
That being said…what better way to make your customers feel comfortable shopping than someone to greet them as they arrive at your website?
Your business is our business.
Video Spokesperson
MBV has just partnered with the industry leader that provides website owners with a spokesperson for their very own website!
You are probably wondering what on earth we are talking about!
Well, take a peek at how three of our clients are currently using a website spokesperson to give their site that personalized and comforting appeal!
Wouldn't you love to have something like this working for you on your website, customized with your specific message, business name and your specific greeting? Well now you can!
You work hard to get people to visit your site, why would you allow your site to lose customers by not making it as shopper friendly and inviting as possible?
Contact us today to find out how you can add this outstanding feature to your website today!
MBV Advantages
Welcome Clients
Video greeter with a custom message
Offer Verbal Discounts
Hi-tech talking video presenter can offer deals
Personalize Your Site
Make your site pop over your competitors
Announce Discounts
Grab your customers attention immediately
24 hour support
24/7 customer service and help desk
Low Cost Investment
Affordable hi-tech solution for your website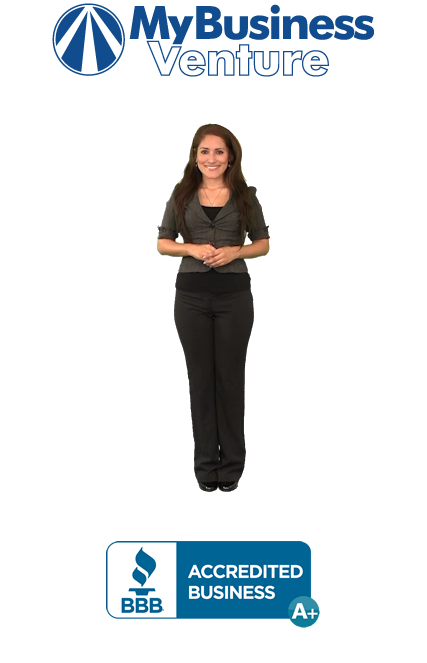 MyBusinessVenture has an excellent formula for success with extremely knowledgeable staff that will get you up and running in record time.
In a time when all you get is voicemail, MyBusinessVenture always has a live person answering their phone during the day and that in itself speaks volumes to their dedication to customer satisfaction.
I just wanted to say thanks for all you do and in getting my business up and instructing me how things work.
When starting a business there is so much to do, it was nice having someone who specialized in helping set up my Company website, and provide toll free support.
MyBusinessVenture provide a seamless service allowing us to handle daily business with no worries.
Our goal is, and always will be, to continue to build synergistic opportunities between us. You're a true partner and we appreciate all the business!