Domain Name Services to help you

grow.

advance.

succeed.
The Benefits of a good Domain Name. As the ways to run a business continue to evolve, having a website with a good domain name is like presenting a good shop front to your customers.
Unlike a shop, however, your site is open 24 hours a day, seven days a week, and is brought directly to their desktop.
There is huge potential in using a website as an aspect of your business, and having a domain name is an integral part of that model.
Your business is our business.
Domain Name Registration
MBV can help you easily setup a merchant account for the customer payment solution best for you! The entire process will take just minutes of your time, and you'll be up and running in a matter of days.
Whether you are a start-up company, existing business, or a Fortune 500 company, we will provide the best website solutions for you.
Secure your Internet Identity with our Domain Name services. Help customers find you faster with a focused memorable domain name.
Register your domain with us and enjoy these great features:

Big savings over the competition.
A long list of FREE extras.
24/7 service that's second-to-none.
Visit us today to secure your Domain Name by clicking here.
MBV Advantages
Choose Your Own Name
Pick your unique domain name for your business
Brand your business
Choose a distinct name so customers easily remember you
Private Registration Available
Protect your personal information with private registration
Low Cost Solutions
Afforable Domain Names through MBV
Easy Set up
MBV makes it easy to set-up and get your name live
Toll Free Support
24/7 customer service and help desk
Automatic Renewal
Never worry about losing your Domain Name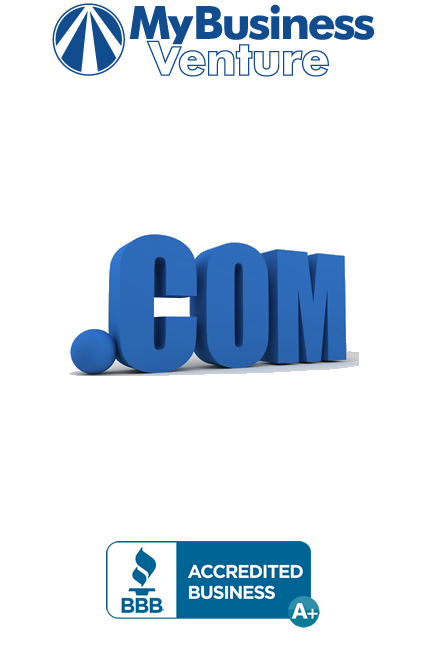 MyBusinessVenture has an excellent formula for success with extremely knowledgeable staff that will get you up and running in record time.
In a time when all you get is voicemail, MyBusinessVenture always has a live person answering their phone during the day and that in itself speaks volumes to their dedication to customer satisfaction.
I just wanted to say thanks for all you do and in getting my business up and instructing me how things work.
When starting a business there is so much to do, it was nice having someone who specialized in helping set up my Company website, and provide toll free support.
MyBusinessVenture provide a seamless service allowing us to handle daily business with no worries.
Our goal is, and always will be, to continue to build synergistic opportunities between us. You're a true partner and we appreciate all the business!