MBV Website Hosting Services
Website Hosting Services to help you

grow.

advance.

succeed.
Make sure friends, family and customers can see your website! Hosting is what makes it possible for others to view your website over the Internet. Without it, you're the only one who will ever get a look.
MBV offers reliable hosting that's lightning-fast even during the biggest traffic spikes. No matter what size your business is, we offer an incredibly affordable plan to suit your needs!
Your business is our business.
Website Hosting
MBV can help you easily setup a hosting account best suited for you and your business! The entire process will take just minutes of your time, and you'll be up and running in a matter of days.
Whether you are a start-up company, existing business, or a Fortune 500 company, we will provide the best hosting solution for you.
MBV's Secure and Reliable hosting solutions include the following:
Unlimited storage and bandwidth
Free 24/7 technical support
Always Up, Always Fast! We'll keep your site online, no matter what.
Count on the world's largest hosting provider
High-performance servers for fastest load times
Powered by our award-winning data center
MBV Advantages
Fast and Easy
Hosting & set-up is simple, fast & easy.
SSL Security
Keep customers info safe with built in SSL security
24/7 Monitored hosting
Ensuring your site is live for your customers 24/7 - 365.
Cost Efficient Pricing
Affordable and scalable solutions for your business.s
E-Commerce Enabled
Compatible with major credit card processors.
SEO Friendly
Rank higer on the major engines with our seo friendly websites.
Toll Free Support
Free training and set-up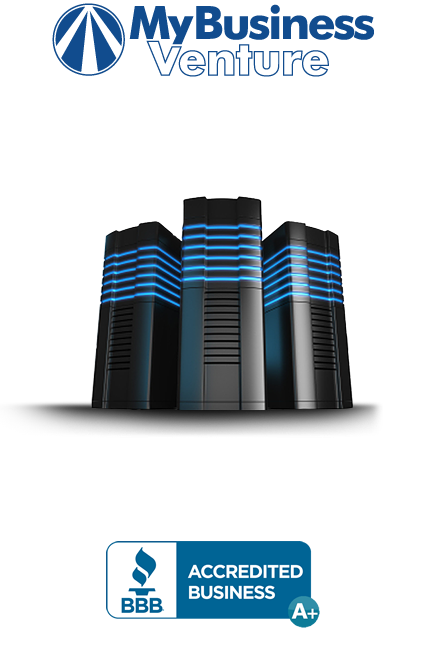 MyBusinessVenture has an excellent formula for success with extremely knowledgeable staff that will get you up and running in record time.
In a time when all you get is voicemail, MyBusinessVenture always has a live person answering their phone during the day and that in itself speaks volumes to their dedication to customer satisfaction.
I just wanted to say thanks for all you do and in getting my business up and instructing me how things work.
When starting a business there is so much to do, it was nice having someone who specialized in helping set up my Company website, and provide toll free support.
MyBusinessVenture provide a seamless service allowing us to handle daily business with no worries.
Our goal is, and always will be, to continue to build synergistic opportunities between us. You're a true partner and we appreciate all the business!